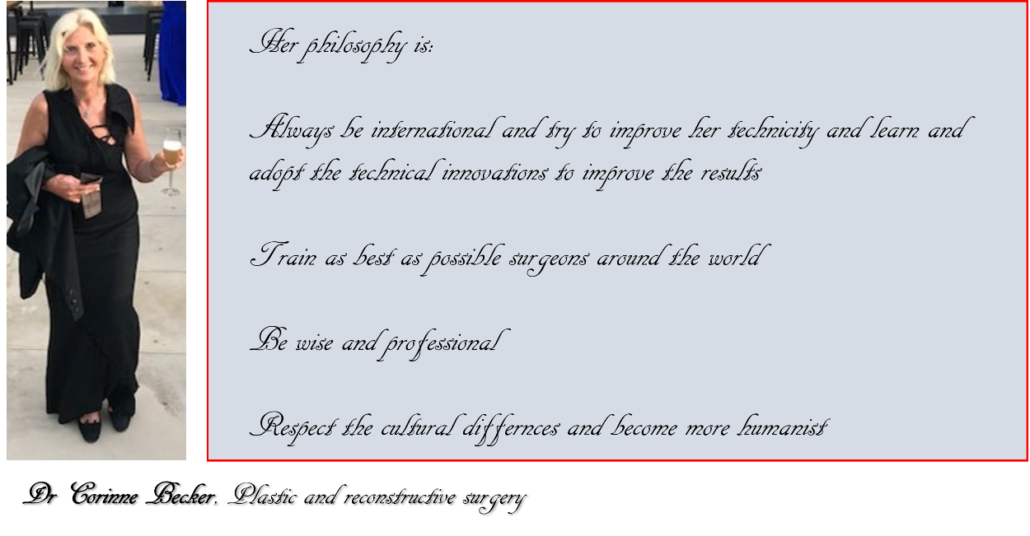 She is plastic surgeon trained in Belgium, France, Germany with the best professors in plastic and hand surgery. (Tubiana R, Muhlabauer W, Gilbert A, Merle M, Riquet M, Hidden G)
She did invent the concept and the realization of the lymphnodes transplantation to treat the lymphoedema, (after research in the laboratory, then in anatomy of university Descartes in Paris).
She began to operate some iatrogenic cases with success, and then congenital cases, after studies on growthing factors contained in the transferred nodes.
Now, she combines the different techniques and improves a lot the results on the lymphoedema patients and lipoedema. A global multidisciplinary approach (radiologic, biologic, biochemical, nutritionist) helps to have long terms results, and treat the lipoedema and the obesity.
The silhouette can be improved by the different techniques of plastic surgery when the volume of the body is reduced.
With her experience on lymphoedema patients since more as 25 years, on around 5000 patients, she can improve the quality of life of many patients and cure some patients especially the children. She decided to dedicate her life to patients suffering from lymphedema.
She did train during 4 years the plastic surgeons of the team of B. Allen in New York at the Ear and Eye Infirmary Hospital (NYEE), which depends of the New York University (NYU)to develop the lymphatic surgery. Dr Becker participates to various international conferences and operates all around the world.
Dr Becker now works in Paris, at clinic Hartmann, the American Hospital in Paris and at the European University Hospital Georges-Pompidou., and in Roma.
She is a member of the French Academy of Surgery and an invited professor in NYU and Stanford university, in Argentina, in Vietnam and in Italy.
Read Dr Becker's resume
Check Dr Becker publications