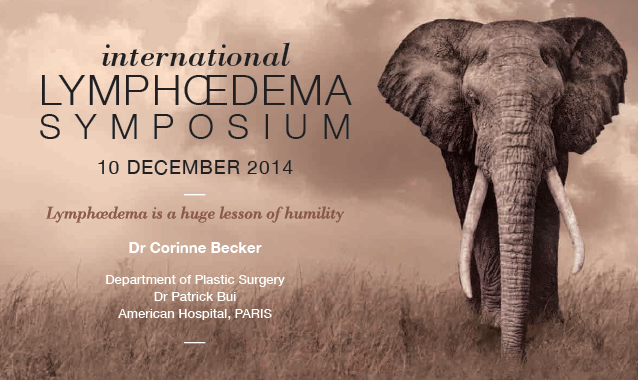 International Lymphoedema Symposium
10 December 2014 – American Hospital, Paris
Lymphoedema … From care to cure ? …
Not enough patients are well treated and the World Health Organisation counts over 150 million congenital cases. 17 to 46% cases are iatrogenic cases which appear after cancer treatment and we still count over 70 million filiariosis cases.
The aim of this symposium is to try to elaborate a strategy for the treatment of lymphoedema and to teach new surgery and physiotherapy techniques
Lymphology basics
New techniques in diagnosing and treating
Research improvements
Round tables to discuss different types of lymphoedema
and strategies in treatment
Venue : American Hospital Paris – 63, boulevard Victor Hugo, 92200 Neuilly-sur-seine, France
Online registration
Download the full programme
---
Programme
8:00am ǀ WHY LYMPHOEDEMA DOES OCCUR?
Chair: E. Földi
Physiology, physiopathology – S. Rockson
General practical lymphatic anatomy – M. Amore, G. Hidden, S. Hiroo, C. Becker
Surgical anatomy in:

Breast surgery – D. Bourgeois
Gynecology, urology – P. Attignac, E. Sebban
Iatrogenic Vascular surgery – A. Banini, F. Vin
Children pathologies – C. Papendieck

Discussions
9:00am ǀ NEW IN IMAGING
---
Chair: M. Germain
Homage to professor J. Daniel Picard inventing the lymphangiography compared to the actual lymphoMRI
Lymphatic MRI – L. Arrivé, S. Derhy, L. Rotenberg
Spy Imaging : application in surgery – J. Dayan
PDE : application in surgery – J. Masià
Discussions
9:30 – 10:00am ǀ BREAK & VISIT OF THE EXHIBITION
---
10:00am ǀ FREE PAPERS
---
Comparison with lymphoMRI and clinical results after ALNT – AS. Regeusse
Results of ALNT for the iatrogenic lymphoedema after hysterectomy and radiotherapy – B. Nogueira- Batista
Chinese expercience in breast reconstruction combined with lymphnodes transplantation L. Mu
Tissue dielectric constant (TDC) for easy and quick assessment of treatment effects with lymphoedema – T. Lahtinen
11:00am ǀ SURGICAL TECHNIQUES
---
Lymphnodes transplantations:

Iatrogenic upper limb – C. Becker, J. Dayan, MH. Cheng
Iatrogenic lower limb – Becker, M. Smith
Breast and lymphnodes transplantation – Mu, J. Masià, P. Neligan, A. Spiegel
Congenital lower extremit – C. Becker, MH. Cheng, BB. Lee

Lymphovenous anastomosis – H. Hara, J. Masià
Lipoaspiration – C. Lepage
Genital surgery – G. Manokaran
Lymphatic vessels transplantation – J. Wallmichrath
12:25pm ǀ INTERNATIONAL EXPERIENCE OF PHYSIOTHERAPY AFTER SURGERY
---
German experience – E. Földi
Italian experience – , D. Giardini
USA experience – M. Alatriste
French experience – M. Fougoux, JP. Brun
01:00pm ǀ BUFFET, EXHIBITIONS, AND WORKSHOPS
---
WORKSHOP FOR PHYSIOTHERAPY (WITH DEMONSTRATION)
01:00 – 02:00pm ǀ SOCIAL NETWORK, QUESTIONS AND ANSWERS FOR PATIENTS
---
02:00pm – 07:00pm ǀ ROUND TABLES
---
CASES PRESENTATIONS AND PROBLEM CASES
ǀ UPPER LIMB LYMPHOEDEMA CASES
Chairs: Jaume Masiá, A. Spiegel
Becker, J. Dayan, M. Hamdi, M. Smith, R. Klein,
Arrivé – M. Alatriste
ǀ UPPER EXTREMITY AND BREAST

Lantieri, C. Lepage, J. Masià, P. Neligan, L. Mu, L. Rotenberg

ǀ LOWER EXTREMITY IATROGENIC
Chair:

Bourgeois, MH. Cheng, D. Giardini, H. Hara,
Nogueira-Batista, Pons, E. Sebban, F. Vin
4:00 – 4:30pmǀ BREAK & VISIT OF THE EXHIBITIONS
---
04:30pm – 07:00pm ǀ ROUND TABLES
---
Clinical cases are submitted before 15 November and answers will be prepared by the members of the round tables with three slides sent before the 3 December
ǀ CONGENITAL CASES: PRESENTATION AND PROBLEM CASES
Chair: BB. Lee

Banini, C. Becker, E. Földi, M. Fougoux, D. Giardini, G. Manokaran,
Papadopoulos, C. Papendieck, G. Pons

ǀ CHILDREN PATHOLOGIES
Chair: C. Papendieck

Arrivé, Becker, D. Giardini, BB. Lee
06:30pm – 06:45pm ǀ DOUBTFUL ELIGIBILITY
---
Chair: G. Manokaran
Alatriste, Arrivé, S. Derhy, C. Becker, E. Földi, G. Manokaran,
Papendieck, P. Neligan, BB. Lee
---
06:45pm – 07:00pm ǀ CONCLUSION
---